Rhonda FeinbergAPDT, CPDT-KA
---
Rhonda Feinberg is a Certified Professional Dog Trainer with over
ten years experience training dogs and their owners.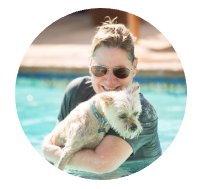 In her business Alpha Paws Dog Training Rhonda follows her passion using reward based, positive reinforcement and clicker- dog friendly methods. Rhonda teaches a full curriculum of group classes including: Puppy, Beginner, Intermediate, Advanced, house-hold manners, Tricks, Basic Agility Training classes and offers AKC K9 Good Citizen evaluation and tricks certifications. For those who want more personal attention she offers one on one or family private training sessions. Rhonda specializes in behavior and obedience issues, aggression, barking, housebreaking, jumping, phobias, separation anxiety, socialization and leash walking. She has studied and worked hands on with some of the top dog trainers in the world. Rhonda continues to stay current attending training seminars and conferences throughout the United States.
Rhonda has 2 dogs of her own, as well as a human family, and she understands the gifts and challenges of being a busy person. She helps owners figure out how to fit dog training into their busy schedules in a way that is fun and that works using positive reinforcement. Rhonda also has a passion for giving back to the underserved. She is a board member for the Joseph and Bessie Feinberg Foundation. She also is a VP for Unleashed Training for Transition, and a board member for CLEAR Canine lymphoma Education and Research.
---
Puppy Training
Beginner Training
Intermediate Training
Advanced Training

Rhonda follows her passion using reward based, positive reinforcement and clicker-dog friendly methods.
In addition to the 4 basic training levels above, Rhonda also includes specialty classes on:
Household Manners
Tricks
Basic Agility
AKC K9 Good Citizen Evaluation & Tricks Certification
One On One Private Training Sessions
---
---
Subscribe to our newsletter
---
On occasion, we will send out updates and training videos to keep you informed!